Early season blooming plants, they are covering the landscape now. With the warmer temperatures, some trees and shrubs are already starting to show off their color. Spring will be here in just a few short weeks but we don't have to wait until the turn of the season for some character in your outdoor space. Here are just a few examples of trees and shrubs that bloom early for a lively late Winter landscape.
Forsythia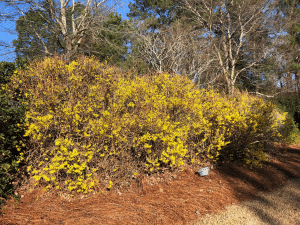 Forsythia is the plant that signals the change of seasons for me. It is one of the first plants to bloom with warmer temperatures, bursting with yellow blooms prior to any leaf growth. Best used in border plantings as it can reach a height of 8-20 feet. This sun loving plant will add that first pop of color to your yard!
Flowering Cherry Tree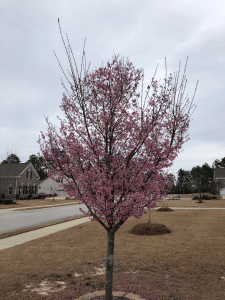 Flowering Cherry Trees provide a great pop of color to the early Spring landscape. Unlike fruit bearing Cherry trees, Flowering Cherry Trees require less maintenace and less water, prefering well drained soils and lots of sun. There are many different varieties available. The most common in our area are Okame, Kwanzan and Yoshino. Make this early bloomer a center peice of your landscape plan!
Saucer Magnolia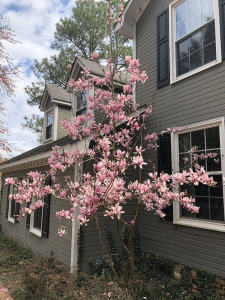 Often mistake for a Tulip Tree or Tulip Poplar, these beautiful trees have early season pink and white saucer shape blooms before putting on any foliage. This tree is sun loving and requires regular watring. Saucers are great specimen plants and can reach a mature height of 20-25 feet tall.
Loropetalum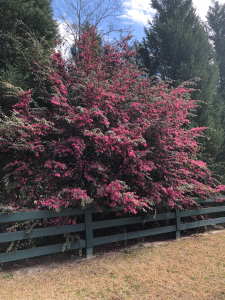 Loropetalum is one of the most commonly used landscape plants in our area. Evergreen, very hearty and drought tolerant onced established, this plant will add a change to all of the green in the landscape with its purple foliage. Bright pink blooms in early Spring add color to the lawn. Most commonly planted in our area is the Ruby variety. We regularly see this plant used in the wrong areas as a foundation plant. Rubys have a mature height of 5-10 feet tall and 5 feet wide. This variety is best used as a border plant or hedge. Smaller varieties of Loropetalum like Crimson Fire are better used in a foundation planting with a growht pattern of 3×3 feet.
Bradford Pear Tree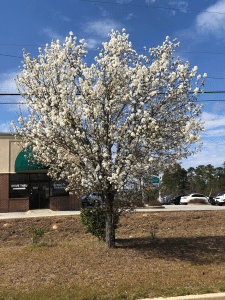 Finnaly, The Bradford Pear Tree. I am actually going to throw a curve ball and not reccomend this one! Over planted in the Midlands durring the 90s and 2000s this tree has great early Spring blooms but the plus side ends there. Once the flowers drop after bloomong they create a mess to clean-up as well as an undesireable smell. Brances on the Bradford Pear are also on the weak side. If a large branch is lost due to trauma or incorrect prunning, the tree shape rarely returns to a balanced look.
These are just a few examples of trees and shrubs that flower in late Winter and early Spring. If you are in need of a landscaper we would love to help! We can design and install a landscape that is full of character and color at all times of the year!
Visit us at www.naturesbestsc.com
The Nature's Best Team