One of the most common questions we get asked is how to add character and usability to landscapes. Some common issues that we see are sloped backyards, lack of bedding, and little or no patio space. These landscape problems are easy to fix with a little planning and creative ideas. Let's dive into some solutions.
Fixing a sloped lawn.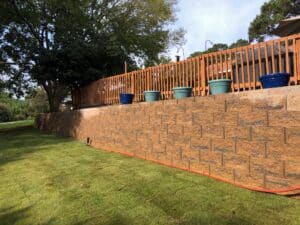 With today's common building practice of maximizing the number of homes on a given track of land, many homeowners are left with little to no flat lawn space. The best fix in these situations is a well-built retaining wall. The size of the wall needed will depend on the amount of slope.  The height can vary from just a small foot wall to walls over 4″ tall and even terraced walls for long and steep slopes. Retaining walls can be used to create flat lawn space, support play structures, and also provide retention for patios and outdoor living spaces. The most common building material is interlocking blocks but other options include brick, poured concrete, natural stone, and timbers. When installing a retaining wall make sure to hire an experienced contractor who adheres to building codes and industry standards.
Adding bedding and landscape plants for color and separation of spaces.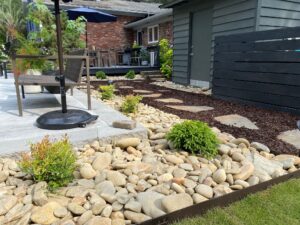 Everyone loves a nicely sodded lawn! Far too often homes are left with lots of grass but little to no bedding areas. Planting beds add color and character to your landscape. Sprinklers that are set to water grass lines that come up to the edge of a home can add mold and mildew to the structure as well as promote wood damage. Adding a defined bedding area around your home, also known as a foundation planting, is a great way to eliminate these problems. Plant a variety of evergreen plants as well as perennials and annuals will ensure that your landscape is always lively. Bedding mulching materials can include wood mulches, pine straw, and even rock bedding for a lower maintenance approach.  Planting areas can also be used to creatively separate areas like patios and lawns, provide privacy for pools and hot tubs and help to define property lines.
Adding a patio or entertaining space to your landscape.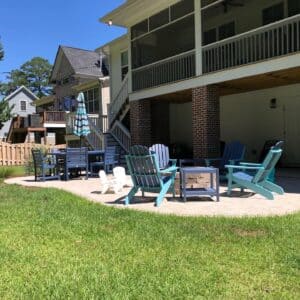 Now that you have a flat and usable lawn with bedding and plants you need to have a space to sit back and relax! Patios are a great addition to any landscape creating added space for entertaining. Outdoor kitchens, grills, and smokers are great additions to these spaces. A well-placed fire pit or fireplace will add usability even in the Winter months. The building material for patios is also numerous. Paver patios provide a very low maintenance and reliable option. The compacted base is extremely durable and will stand the test of time. Other options include flagstone for a rustic look and feel and small gravel or rock for a more budget-friendly approach. Patio placement is subjective to each homeowner. Keep your patio close to the home for convenience when moving food from the kitchen to the grilling area as well as for additional seating during parties. For a more secluded feel, place your patio further from the home and surround it with lush trees and plants.
These 3 examples are just a few that face many homeowners. If you find yourself in need of a landscape solution, reach out to the team at Natures Best Lawn and Landscape for help. Our staff has decades of experience creating usable, long lasting landscapes. For design and installation of landscaping, hardscaping and everything in between we are here to help. We can be reached at 803-269-9520 or www.Naturesbestsc.com