Preparing your lawn for winter in the Southeast is easy. Although Spring may be the most popular time of year to work in the yard, there are a few tasks to complete in the Fall that will ensure that your landscape is ready for the coming cold weather. Grab a lite jacket, some work gloves and mug of warm apple cider and let's get to work!
Finishing your planting for the season is the first step to preparing your lawn for winter.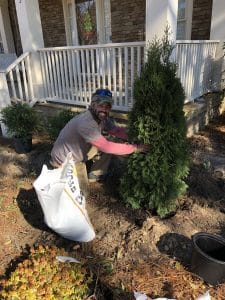 Fall is my preferred time of year for planting trees and shrubs. Autumn provides a less stressful environment for plants to adapt to their new home. Temperatures are lower, rainfall is more frequent and insects and pests are less active this time of year. In Northern climates, it is recommended to finish planting a few weeks before the ground freezes. In the Southeast, we are typically safe from ground freezes in Winter but to be safe, finish all plantings prior to Christmas. When planting, be sure to dig holes twice as large as the rootball of your plant, add fresh organic compost and layer of mulch or pine straw around the base of the plant. Even though the air temperature is lower, plants will still require water until we start to have frosts and freezes. The rainfall we receive is normally adequate but watering by hand or sprinkler system may be needed.
Add a layer of pine straw or mulch to your landscape is a great way to prepare your lawn for winter.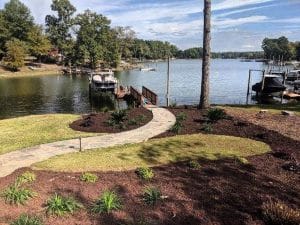 While the early season may be the most popular time of year for mulching your landscape, plants are in critical need late in the season for a healthy layer. Pine straw and mulch provide protection from the cold of winter to a plant's root system. Mulch also provides a warm environment for Earthworms and microbes which help enrich the soil condition. Aim for a 3-inch thick layer in your landscape bedding areas. Good choices for mulching are shredded bark, pine straw and even mulched leaves. Your landscape will look fresh and clean for the Holidays as an added bonus!
Cut back perennials to prepare for winter.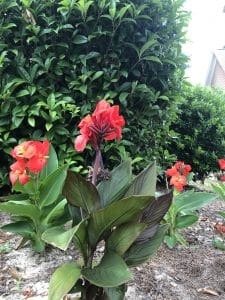 After our first freeze, it is time to cut back perennials. Cutting old growth (especially diseased growth) will help perennials return healthy in the Spring. A few perennials we recommend to cut back in Autumn are Iris, Phlox, Lillies, Daylily, Peony, Hosta, Canna to name a few. Wait on cutting back Lantana until late WInter or early Spring.
Reduce and stop watering from sprinkler systems for the season.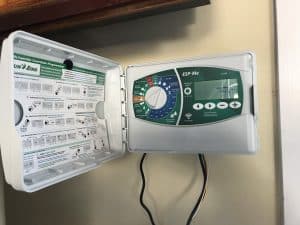 While plants and turfgrass require healthy amounts of watering during the warm season,  fall is the time to reduce watering on your sprinkler system. One day per week for established turfgrass and plants is recommended. Rotary head sprinkler zones should run no more than 30 minutes. Spray head zones should run no more than 15 minutes and drip zones no longer than 60-90 minutes depending on the system. If we receive more than 3/4in of rain no watering is needed from your sprinkler system.
Putting a wrap on the growing season.
Preparing your lawn for WInter can be easy and fun! Spring and Summer will be back around before we know it! If you need help with your landscape the Natures Best Lawn and Landscape Team would love to help! We offer landscape design and installation, sprinkler system installation and repair, landscape lighting design and installation, french drains and much more. visit www.naturesbestsc.com or call 803-269-9520 for more info.